My experience playing lead guitar for Chasen Chantz has been awesome. We've had a great time playing some great venues , hopefully it will continue in the future. Lino has played throughout, and Max has been there most the time (as well as contributing his electronic drumming on the audio files), with Nishant Jacob taking over drum duties for a short while. Chasen's an UBER-talent and a natural at writing rhythmic, infectious, stick-in-your-head grooves. He could be chanting like a Tibetan Monk, beating on a hand drum, beat boxing, or playing a stringed instrument at any time and might even layer it all together in a single song and make it all work together. His internal metronome clicks to a different beat than most of us… refreshing!
Chasen's artist-bio from Reverb Nation: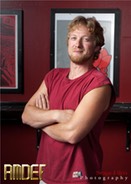 I am Chasen Chantz, a singer/songwriter since i began high school. i have been influenced by many artists in a wide variety of genres. my focus is on centering myself on an emotion with descriptive yet vague situations, allowing for a wide variety of interpretation. i have always needed music as an outlet for my very passionate emotions. i believe in the power of vibration: to settle nerves, inspire, unite, rekindle, excite, and most of all magnify our current situations in a positive way. we as a whole could move mountains with the powers we were already born with. Love is the framework for lasting happiness!! I have been through many artistic groups, progressing throughout the years. Now i am ready to hit the stage rocking with my solo performances (not to say i won't play with others!). Music has been such an integral part of my entire life. I just hope someday very soon i will be able to share with you all a vibration that lasts through the generations. My heart goes out to you all.